Why Concrete Leveling Should Jump to the Top of Your Spring Repairs List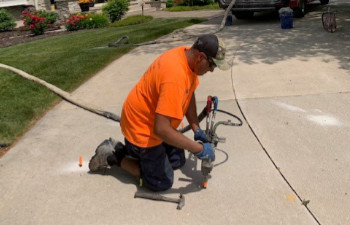 As winter begins to subside and hints of warmer weather to come are more frequent, most homeowners' minds turn to the outdoor spring-cleaning projects they want to tackle. While your to-do list may be long and filled with aesthetic-value upgrades, it's important to make sure concrete leveling projects move to the front of the line. Find out why you should start your spring outdoor revamp on literal and figurative level ground.
Why Sagging Concrete Can Ruin Your Plans
There are so many factors that can affect your sidewalks, walkways, driveways, patios and other paved surfaces in Atlanta. Concrete sagging, regardless of the root cause, does present a very real risk. Sagging means the structural integrity of your concrete surfaces has been compromised, setting the stage for the next appearance: cracks.
Cracking creates the perfect environment for moisture intrusion, which can further aggravate your already destabilized soil beneath the concrete. Over time, this can lead to more dramatic cracking, unevenness and very real safety hazards.
When you're planning to overhaul your outdoor living spaces, it's vital for them to be both safe and aesthetically pleasing. A beautifully decorated patio that isn't structurally sound adds no value to your home or usability to your space. The most lavish gardens can't offset the tripping hazard of an uneven walkway. In the end, you may find many of your wish list items simply can't come to fruition until concrete surfaces on your property are leveled.
How Atlanta Concrete Leveling Saves Sagging Concrete
Chances are, you've been putting off concrete repairs because of the perception that they are highly disruptive, expensive and stressful. The truth is, most concrete issues related to sagging and settling can be repaired in as little as one day, usually without tearing up any of the existing surface.
Don't let unsightly concrete damage spoil your exterior upgrade plans or introduce tripping hazards into your outdoor oasis. Advance Concrete Lifting and Leveling is standing by to help you get a jump start on an exterior spring revamp. Call today to learn more about the process, and why it isn't as complicated or as stressful as you might think.
Posted on Behalf of Advance Concrete Lifting and Leveling