Why Are There Voids Under My Concrete?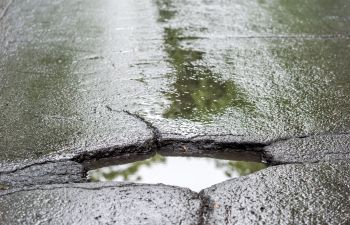 If there's one thing Alpharetta residents tend to overlook, it's the condition of their concrete. A cement surface looks solid, but if you don't pay close attention, it can start to sink right out from under you due to voids in the slab.
A void is a gap between the underside of the paved surface and the ground beneath it. They're more common than you may think, since they happen for a variety of reasons.
What Causes Voids
A void can be due to:
Water seepage from a leaky pipe or poor drainage

Soil compaction

Fluctuating temperatures

Soil erosion

Soil expansion (soil that rapidly expands or shrinks with water)
Voids may form due to a preventable issue or an unforeseeable one. Either way, once you do have a void, you need to do something about it.
Why Voids Are a Problem
A void underneath a concrete concrete surface can throw off the balance of the entire building. The resulting stress causes cracks to form in walls. Gaps under concrete can also lead to uneven surfaces that become trip hazards and create water drainage issues.
If the voids under your concrete surface aren't taken care of, you'll be left with an unsightly or even dangerous structure.
Slabjacking Services in Alpharetta
Voids are often easy to fill and restore with the help of slabjacking — a method that forces polyurethane foam into the gap through a tiny hole. This foam hardens almost instantly and helps bolster parts of the cement lacking support.
Slabjacking could help you fill voids under your concrete walkway, driveway, pool deck, and even house concrete surface. To assess your property for these voids and find out the right solution, contact Advance Concrete and Leveling.
Posted on Behalf of Advance Concrete Lifting and Leveling