There is No Need to Put Off Concrete Repairs Due to Cost Concerns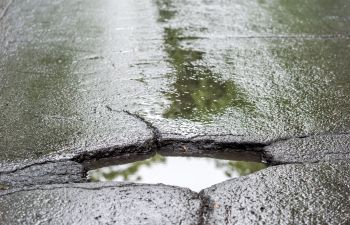 Outdoor living spaces are important for several reasons. The aesthetics of a front or back yard can affect curb appeal, property value and your sense of well-being. If you have a concrete patio, driveway or poolside area that has suffered damage, you lose many of the benefits of spending time outdoors.
Homeowners, especially, are likely to notice even the slightest damage to outdoor hardscapes and other features. You could be sitting by the pool when an uneven area of concrete catches your eye. Once that happens, the aesthetic is instantly changed. What was once a place to relax and take in the sun is now an eyesore.
Ignoring Concrete Damage
While you may not completely ignore concrete damage, it is common for homeowners to accept that the issue exists and never hire a contractor to carry out repairs. This is likely due to the perception that repairing concrete is an expensive job. There is also the false belief that certain types of damage require replacement of concrete features.
When concrete surfaces shift or become uneven, the cause is usually soil shifting or eroding below the surface. Voids can form as a result of water intrusion that upsets the expected position and compaction of soil. These issues can be resolved in most cases without major repair work.
Concrete Lifting & Leveling
Concrete lifting and leveling are achieved through specialist techniques that restore stability and reposition the concrete to its original orientation. At Advance Concrete Lifting and Leveling, we can use slab jacking with a special polyurethane foam to repair uneven or sunken concrete. The process involves injecting the foam into the soil through small bore holes. From the homeowner's perspective, that means no major upset to daily life and a service that is more cost-effective than other options.
If you would like to learn more about our services, call our Alpharetta offices today.
Posted on Behalf of Advance Concrete Lifting and Leveling