Spring Project: Lifting and Leveling Patio and Poolside Area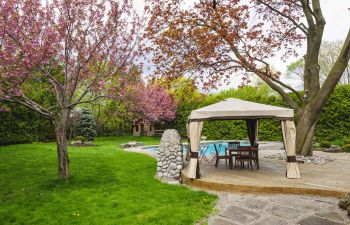 If spring means spending more time in the yard for you and your family, it is time to consider some minor renovations. Concrete patios and the poolside are vulnerable to sinking, which makes these areas unattractive and unsafe.
Smooth and level surfaces enable you to create comfortable spaces outside your home. Concrete lifting and leveling is an affordable way to restore these surfaces. You don't have to worry about intrusive construction work when you opt for slab jacking with polymer injection.
Sinking Concrete
Why does concrete sink? There are several causes of concrete sinking. The weight of vehicles, water erosion, soil shifts and voids are just some of the common culprits. A combination of these issues can lead to significant subsidence, which amounts to a potential safety hazard as well as an eyesore.
Replacing soil and concrete is an expensive option which may not offer a lasting solution. The underlying problem will still exist, eventually leading to concrete sinking and requiring further repairs. At Advance Concrete Lifting & Leveling, we are committed to providing permanent support for your patio, walkway, driveway and poolside surfaces.
Concrete Lifting & Leveling
Our polymer injection process does not require the removal or replacement of existing concrete. Small bore holes will allow our concrete lifting & leveling specialist to fill in any voids in the substrate and restore support for the compromised concrete. When the weather picks up, you will have a yard that is attractive and safe for family and friends. Our services are considerably more affordable and the work we carry out is less intrusive.
Call Advance Concrete Lifting & Leveling today if you have any questions about slab jacking and polymer injection. We look forward to helping you breathe new life into your outdoor living spaces in Georgia.
Posted on Behalf of Advance Concrete Lifting and Leveling