Prepare Your Concrete Surfaces for Winter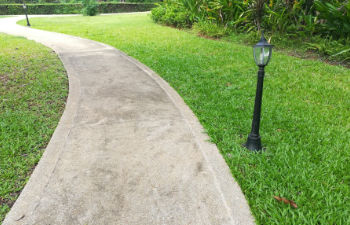 Cold weather and increasing moisture are coming on fast, and most homeowners are well into the process of winterizing their homes. It's also a good time to make sure your concrete surfaces are protected for seasonal weather. Concrete sidewalks, driveways and lawn décor can remain sturdy and attractive with a bit of pre-season maintenance.
Repair Damaged Concrete
For driveways or patios that are already showing damage — like narrow cracks or surface spalling — the damage must be repaired before any winter sealing. If your slabs are still level, this can be accomplished as a DIY project. For cracks, a good, flexible sealant is best to fill in and level cracks. The results can even match your surface to blend in seamlessly. Surface spalling or flaking will require concrete resurfacer to shape, contour and even out rough spots. Always be sure to follow the manufacturer's instructions with any sealant or resurfacing product.
If your concrete slabs have more extensive damage, such as heaving, uneven surfaces or a number of large cracks, this requires professional-level repair. This kind of damage is a sign of stability problems that can require lifting and leveling.
Seal Concrete Surfaces
Concrete is actually a porous substance — meaning that it cannot resist moisture penetration. And in freezing temperatures, that moisture freezes and expands, cracking and breaking your concrete surfaces. Now even more moisture can seep underneath your concrete slabs, widening existing cracks and weakening their structural stability.
Moreover, with slab concrete patios and sidewalks, water that penetrates large cracks can saturate the ground beneath, causing it to heave upward when water in the soil freezes and expands. This is what causes uneven and broken concrete slabs, a real risk for falls.
After making any necessary repairs to your concrete surfaces, apply a good quality acrylic sealer. This can be done every year to keep surfaces intact. Drain and cover or store concrete statuary. If it is not easily moved or covered, statuary pieces can be painted or sprayed with acrylic sealer as well.
Contact Advance Concrete Lifting and Leveling when you need concrete repairs in Alpharetta and surrounding communities.
Posted on Behalf of Advance Concrete Lifting and Leveling