Pool Deck Lifting and Leveling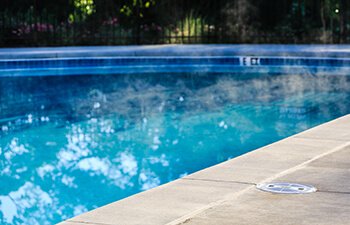 Owning a swimming pool is one of the great luxuries in life. In summer, there's no place most people would rather be that in the cool water on a hot day. Pools add an elegance to back yards and increase the value of a home. There aren't many downsides to having a pool, but there some problems that can occur. Concrete pool decks are notorious for settling, cracking, and becoming uneven. During the construction process, soil is backfilled around the pool. Once the weight of the concrete bears down on the soil, settling and sinking is inevitable.
Is your pool deck sinking? Has the uneven pool deck become a trip hazard? Are there unsightly cracks surrounding your pool? The repair experts at Advance Concrete Leveling and Lifting are skilled at lifting and leveling concrete pool decks.
Repairing a pool deck used to involve a lot of time and money to tear out the old concrete and pour an all-new deck. At Advance Concrete Leveling and Lifting, we use an innovative, high-density expanding foam to lift and level the concrete without the need to replace it. Our technicians will drill a dime-sized hole into the surface and inject it with the material. The soil is stabilized when the foam fills in the voids as it lifts the concrete to level. A recurrence of settling is rare. What's more, the whole process requires a matter of hours, not a few days. With the foaming technique, there's no waiting for concrete to cure. You'll be back to enjoying your pool immediately.
Sunken concrete is a serious problem. When it involves a pool, it can be a matter of urgency to keep your friends and family safe. To prevent more expensive repairs in the future or risk someone getting injured, arrange for the concrete to be lifted. Contact the team at Advance Concrete Leveling and Lifting for a free evaluation of your pool deck.
Posted on Behalf of Advance Concrete Lifting and Leveling