Limit Your Injury Liability with Walkway Leveling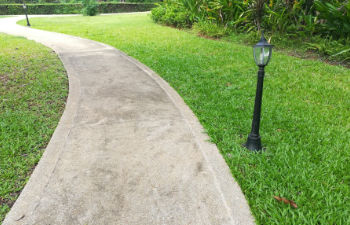 While you may be used to your unlevel sidewalk or walkway, it can be a tripping hazard for others. A sunken slab can leave a ledge that may be a danger to anyone using the walkway. Property owners are responsible for maintaining a safe place for anyone that comes on their property, whether they are invited or not. Could your unlevel walkway be a legal and financial liability?
Premises Liability: Property Owner Negligence
When it comes to unsafe areas on your property, it is not only about keeping your own friends and family safe. A hazard that can cause injury, like an uneven or sunken walkway, could be used by anyone entering your property. If a delivery person or visitor trips, falls and breaks a bone due to a sunken sidewalk, the property owner may be held financially liable for the injury. This can be a big price to pay compared to fixing the sidewalk with concrete leveling.
Make Your Property Safe for Everyone
Concrete walkways, sidewalks, patio, pool decks and other surfaces that are uneven or sunken can be injury hazards. Property owners and even those leasing or renting the property can be liable for injuries that occur due to lack of maintenance to keep the property safe. If you have concrete areas that are unlevel, it is worth the investment to repair the concrete.
Concrete leveling does not need to be a time consuming or expensive project. With slab jacking, the concrete can be quickly lifted using foam that is injected under the walkway. Unlike mudjacking or concrete repairs, slab jacking can be performed in one visit and the foam begins hardening in minutes. Your unlevel sidewalk or walkway could be fixed and ready to use the same day, restoring safety to your property.
At Advance Concrete Lifting and Leveling, we offer fast and affordable options for fixing unlevel walkways. We serve the greater North Atlanta and Marietta, GA area, including Cumming, Acworth, Duluth, Norcross and the surrounding communities. Call us today if you have sunken or unlevel concrete that is creating a safety and liability concern on your property.
Posted on Behalf of Advance Concrete Lifting and Leveling