Lifting and Leveling of Non-Foundational Concrete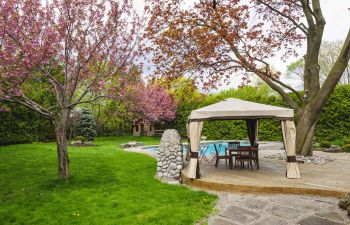 In some parts of your property, such as the basement, concrete is a foundation. When the concrete is supporting other structures including floors and load-bearing walls, any damage should be inspected by a specialist who understands structural integrity.
If your concrete surfaces are not considered foundations, you may not need to incur excessive costs for repairs. For instance, a driveway or patio is technically a hardscape feature that does not support load-bearing structures. Lifting and leveling these features should not involve replacing the original materials.
Concrete Lifting & Leveling
The process of concrete lifting and leveling that is most cost-effective involves the injection of polyurethane foam into the soil through small bore holes in the concrete. Traditionally, this method involved the use of a method known as mudjacking, which utilized concrete for the same purpose.
Polyurethane foam is more effective because it takes around 15 minutes to set, compared to days for concrete. This approach is also more eco-friendly; plus, polyurethane foam bonds with the underlying soil to create a solid, stable surface.
Soil Movement & Voids
Soil is always moving below your Alpharetta home. Usually, the amount of movement takes years to have any meaningful impact on surface level materials like concrete. However, when the soil is bad, there are several major issues that can arise.
Poor water drainage, clay substrate or voids forming in the soil are the most common reasons for sudden degradation in concrete. These issues can impact driveways, patios, decks, walkways and the poolside. Foundations are also at risk, but structural integrity issues cannot be addressed with lifting and leveling alone.
Advance Concrete Lifting & Leveling
If you have concerns about the aesthetics or safety of your concrete surfaces, Advance Concrete Lifting & Leveling can carry out an inspection. We are dedicated to providing customers in Alpharetta and surrounding areas with effective and affordable solutions. Before you go to the cost of replacing uneven or damaged concrete, turn to our team for a cheaper alternative that will last.
Call Advance Concrete Lifting & Leveling today if you have questions about our services or would like an inspection at your home.
Posted on Behalf of Advance Concrete Lifting and Leveling