Key Reasons You Should Lift and Level Concrete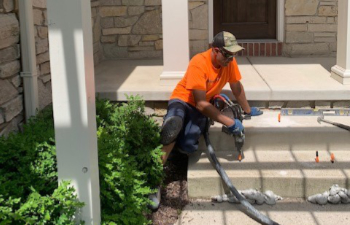 No matter where you go in your city, you are guaranteed to encounter damaged or sinking concrete at some point. You may even have surfaces that are in need of repair on your own property. Over time, concrete can sink or settle for a range of reasons. However, one of the most common causes is soil shifting or eroding.
You may not feel that addressing the issue is worth the time or cost. While some concrete repair methods are messy and expensive, our lifting and leveling solution is fast and effective. You won't have to replace the surface and there are a range of other benefits, too.
Fast & Cost-Effective
Using a special polymer injection, we are able to lift and level concrete without removing any of the material. The reduced labor alone is reflected in the cost of our services. If you are a home or business owner with sinking concrete, call our offices today for a quote.
This method is also much faster than tearing up concrete or replacing an entire surface. Some traditional repair methods take weeks. Advance Concrete Lifting & Leveling can deliver results in hours. The service is ideal for repairing driveways, patios and poolside concrete surfaces.
Aesthetics & Safety
From an aesthetic perspective, damaged or sunken concrete is an eyesore. You want your home to look attractive to visitors and neighbors. It is also important to consider curb appeal if you are planning on selling your home or commercial property.
Safety is a major concern when concrete surfaces are badly damaged or uneven. Trips can lead to falls, which in turn can result in injuries. Making your property safer for visitors, friends and family is possible with services from Advance Concrete Lifting & Leveling.
Extended Lifecycle
When concrete is repaired through lifting and leveling, the lifecycle of the surface is extended. This is especially true when voids in the soil are filled to provide additional support. Left untreated, your surfaces will continue to sink and suffer further damage.
Call Advance Concrete Lifting & Leveling today to learn more about our services near Alpharetta, GA.
Posted on Behalf of Advance Concrete Lifting and Leveling