Is Your Concrete Patio Ruining the Landscape Aesthetic?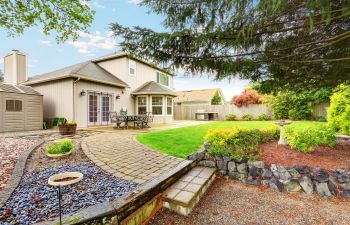 A concrete patio is a great addition to any home. As an outside extension of your living spaces, the patio provides a space to relax in the sun. As with any feature in or around your property, it is important that the patio adds both comfort and value.
When a concrete patio starts to sink or appears uneven, it can upset the symmetry of your entire landscape. If you wouldn't tolerate dead patches on your lawn after the winter thaw, why allow a visibly damaged patio to impact aesthetic balance?
Budget Challenges & Concrete Patios
Reseeding a lawn is a relatively inexpensive and quick fix. Replacing a concrete patio, on the other hand, costs money and requires extensive work. If you enjoy spending time outside, the temptation to just ignore a sunken or uneven concrete patio is therefore understandable.
Besides the obvious aesthetic impact on problems with an uneven concrete patio, you have to consider the health and safety of friends and family. Uneven concrete slabs are a tripping hazard. As one of the hardest surfaces on your property, the last thing you need is liability for an accident if a visitor falls and suffers an injury.
Concrete Patio Lifting & Leveling
Replacing your concrete patio is not the only option. In fact, concrete patio lifting and leveling is often the preferable choice. Instead of removing the old concrete and installing a new patio, Advance Concrete Lifting & Leveling offers a minimally disruptive service that does not require replacing existing concrete.
We use a polymer injection to elevate the concrete until it returns to its original level and orientation. This process does not involve replacing existing concrete. Instead, small holes are drilled into the existing structure to allow our specialists to fill voids below the concrete.
Call our offices today if you would like your concrete patio to look and feel level again.
Posted on Behalf of Advance Concrete Lifting and Leveling