Is Uneven Concrete a Friend or Foe When Kids Play Outside?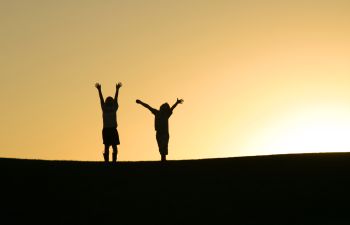 There are several classic tropes when kids are playing outside and the rules surrounding fairness. One particular scapegoat has always been the quality of the playing surface. If the concrete is uneven, the other team naturally has an unfair advantage, for instance.
These rules are typically bendable to suit whoever least benefits from the state of the court. However, the real concern is whether the stadium owners are liable for any potential injuries caused by poor maintenance.
Trips & Falls
Uneven concrete is notorious for causing trip and fall accidents. If your kids and their friends are using any concrete space for backyard basketball, providing a safe environment is important. When voids form or the soil shifts beneath your concrete, there is an increased potential for accidents due to a surface that is sunken or otherwise compromised.
Competing teams will never complain about these issues, unless surface flaws result in a loss or injury. As the adult in the room, it is your job to recognize and address any dangerous structural problems. The good news is that repairs will not cost you as much as you may think. With polymer injection and slab jacking from Advance Concrete Lifting & Leveling, repairs won't even disrupt the current season of pee wee basketball.
Replacement Versus Repair
When you opt to replace concrete to address issues like sinking, the original problem still exists. Slab jacking and polymer injection reinforces the underlying soil or other substrate materials, ensuring that surfaces are supported and remain level. These processes do not require the replacement of concrete, as the polymer injection is achieved by boring as series of small holes in the existing structure.
If you want a more affordable solution for keeping your kids competitive on the home court, consider removing hazards such as sunken courtyards with services from Advance Concrete Lifting & Leveling in Alpharetta.
Posted on Behalf of Advance Concrete Lifting and Leveling