FAQ About Slab Jacking in Alpharetta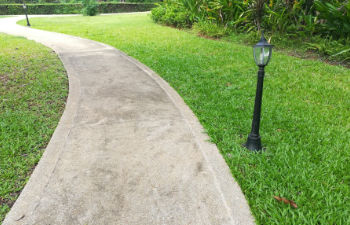 Are you looking for information about slab jacking for your home, rental property, or business? Here are four of the most common questions about slab jacking services in Alpharetta.
What Is Slab Jacking?
Slab jacking is the process of pumping a material such as concrete or polyurethane foam underneath a cement slab through small holes drilled into the surface. As the material is forced under the existing surface, it raises it up. Slab jacking is often the best solution for sunken and unlevel concrete surfaces, walkways, driveways, and more.
Do I Need Slab Jacking?
If you have any sunken concrete surfaces on your property, then they may qualify for slab jacking. Slab jacking is an alternative to completely redoing the cement surface.
Water drainage problems or trip hazards in your concrete surface are often indications that you need to call a slab jacking service.
Is Slab Jacking Expensive?
Slab jacking prices are much less than replacing a concrete surface. How much your project will cost depends on the size of the area that needs to be raised.
How Long Before I Can Use My Concrete Surface Again After Slab Jacking?
The best part about slab jacking is that you can use your walkway or driveway again within hours of the repair. The polyurethane foam cures very quickly and the process doesn't require extensive excavation. You won't have to deal with messes or lost material and you won't need to rope off the work site for very long. Slab jacking is an ideal concrete leveling solution for busy areas with high traffic.
Voids under concrete and shifting or compacted soil can cause expensive damage to your property. Ready to find out how slab jacking can save your home or business? Call Advance Concrete & Leveling today to learn about our concrete repair solutions.
Posted on Behalf of Advance Concrete Lifting and Leveling