Are Soil Voids Compromising Your Georgia Concrete Driveway?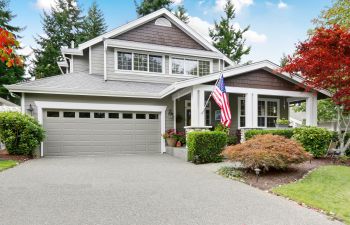 Have you noticed that your concrete driveway is sinking? If so, you are likely dealing with voids in the soil beneath the slabs. There are several potential causes for this type of damage, including water infiltration, soil movement and soil erosion. Whatever the case, a sinking concrete driveway is unsightly and may result in injuries.
Do I Need to Replace My Driveway?
Many contractors will recommend replacing your driveway when concrete slabs begin to sink or sag. Unfortunately, in most cases, this is bad advice. Replacing the driveway is usually an expensive and unnecessary measure when there are repair options available.
When voids in the soil are the problem, replacing the concrete driveway would involve removing viable slabs to address an issue that can be resolved through a process known as slab jacking. This method does not require the removal of surface slabs, and nor does it require extensive work to re-establish support for your driveway.
Polyurethane Foam Injection
At Advance Concrete Lifting & Leveling, we use a special polyurethane foam to fill in the voids left in soil underneath your concrete slabs. This process involves injecting the polyurethane foam through small drill holes in the slab, where it expands and fills out the void. The material is designed to bind to existing soil, providing protection against further soil movement or erosion.
Polyurethane foam injections are considerably more cost-effective that removing slabs or completely replacing a concrete driveway. Additionally, there is little visual evidence left beside a restored and level driveway to show that work was completed. This concrete driveway treatment is available to homeowners in and around Alpharetta, Georgia, from Advance Concrete Lifting & Leveling.
Call our offices today for a concrete driveway consultation. We can come out to your home to inspect the damage before providing appropriate service recommendations.
Posted on Behalf of Advance Concrete Lifting and Leveling