A Better Foundation for Hardscapes with Concrete Lifting and Leveling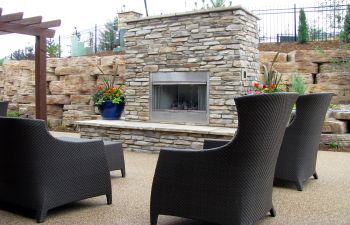 When you are planning a new landscape, hardscapes probably feature heavily in the design. These features may include retaining walls, seating areas, water fountains, fire pits and outdoor kitchens. If you already have concrete surfaces, these areas can act as a foundation for hardscapes.
Unfortunately, properties in and around Alpharetta often have problems with sinking or uneven concrete. These issues can occur in areas such as driveways, patios, landscape features and the poolside. Rather can going to the cost of replacing existing surfaces, consider the cheaper option of lifting and leveling.
Concrete Lifting & Leveling
Lifting and leveling your concrete surfaces does not only restore appearance, the process results in better stability. A polymer injection is used to raise the concrete back into its original position, while also filling voids in the substrate that supports the surface.
The process involves injecting the polymer into small holes in your existing concrete, which means there is minimal mess and fuss. Concrete lifting and leveling is significantly cheaper than many other repair options. You won't have to put off plans for starting a landscape protect, either, as restoring your concrete takes no time at all.
Landscape Orientation
The orientation and general appearance of a landscape is impacted by the stability of individual features. If your concrete has subsided or is uneven, hardscape features will appear raised on one or more sides. This may result in functional hardscapes such as fire pits and BBQs becoming unusable due to safety concerns.
It is likely that you will invest a considerable amount of money into creating a dream landscape. The slightest imperfection in the position of hardscapes could negatively impact the aesthetics of your design. Once all concrete surfaces have been lifted and leveled, you can safety begin work on your yard restoration project.
Advance Concrete Lifting & Leveling can carry out an inspection at your home or business premises. We will make recommendations for repairing surfaces affected by voids, erosion or disruption from root systems in soil. Our polymer injection process is ideal for most issues. However, we have other services that may provide better solutions.
Call our Alpharetta offices today if you would like to book an appointment with an Advance Concrete Lifting & Leveling specialist.
Posted on Behalf of Advance Concrete Lifting and Leveling