4 Benefits of Maintaining Walkways at Your Business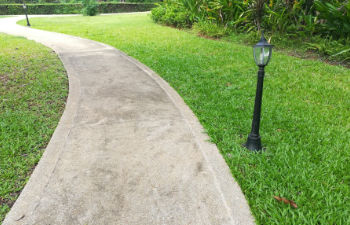 You may feel that what's inside your place of business is more important than how it looks on the outside.
But there are a few reasons why you should pay careful attention to the seemingly small details…whether it's your landscaping, lighting, or even your walkway.
Keep Your Alpharetta Business Looking Sharp
A walkway should be a well-defined accent to your office's landscaping. As long as grass and weeds are trimmed away, and the walkway is swept clean, it'll stand out and give your premises aesthetic appeal.
Enhance Customer Experience and Impressions
You can show your customers and clients how much you value their business by keeping their walkway clearly marked. They may not remember how it looks, but they'll value a positive experience. You also want to make sure your walkways are safe and accessible to customers with wheelchairs or walkers.
Improve Workplace Efficiency
Do you have shop workers and delivery people transporting goods in and out of your business? Workflow will stay fluid and accidents will be few if you keep the walkways clean, clear, and level.
Prevent Injuries and Liability
Above all, a level and clear paved surface is crucial for safe pedestrian traffic and ADA Compliance. You don't want an uneven sidewalk or walkway that poses a trip hazard to people walking into your business. The last thing your business needs is the black mark of accident liability. In fact, falls are the second leading cause of death, outnumbered only by motor vehicle accidents.
An uneven walking surface is one way to ask for an accident on your property.
Level Out Your Walkways
Don't let an uneven concrete surface ruin the appeal or safety of your business. If you have an unsafe sloping surface or un-level concrete slabs, then it's time to call an Alpharetta slabjacking company like Advance Concrete & Leveling.
Posted on Behalf of Advance Concrete Lifting and Leveling